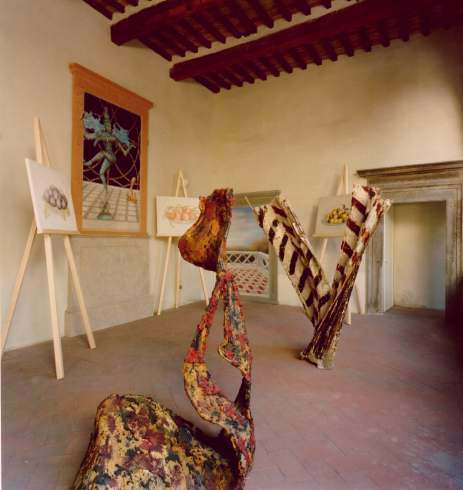 Dana for Nataraja
A votive installation at Palazzo Ducci del Rosso Sansepolcro, Italy
Dana for Nataraja is a pictorial installation that can be located in that wide fluxus of thought that is at the origin of Ritual Art in its aspect of devotional or votive paintings.
The structure of the votive cycle has always been formed by three elements, Donor, Donee, and the offerings through which the ritual act is performed.
Functions defining the net of the votive act may change in time in the same way that meanings may be modified and relationships established but the essence is a unique, simple mechanism, based on the magical protective or propitiatory power of the principle of resemblance, proximity, or contact.
In this ambit it happens that the Donor often has himself portrayed along with the divinity to which the work is dedicated. For example, in the spring of 1451, Piero della Francesca was commissioned to paint, in the Malatestian temple at Rimini, the scene commemorating the consecration of this imposing dynastic and religious monument. In his fresco Piero represented his donor, Sigismondo Malatesta, in the act of receiving a dynastic investiture from his omonymus saint. Bearing in mind that the essence of votive art is always of a magical nature, that means based on associations of a « sympathetic » nature, it is not so difficult to understand the circumstance in which the Donor has himself portrayed in the clothes of the donee as in the piece that Matthias Grunewald painted for the Archbishop of the town of Halle, Albrecht von Brandenburg, where he is portrayed in Saint Erasmus's clothes. Archbishop von Brandenburg not only professed himself to be a faithful Erasmian, but also probably hoped to acquire, by the magical use of this symbol, some of the real Erasmian values.
It is hard to imagine finding a Donor wishing to do this nowadays, but indeed the fascination of the ritual act still continues, and in the autonomous and pathless territory of art, there is still the possibility of evoking it.